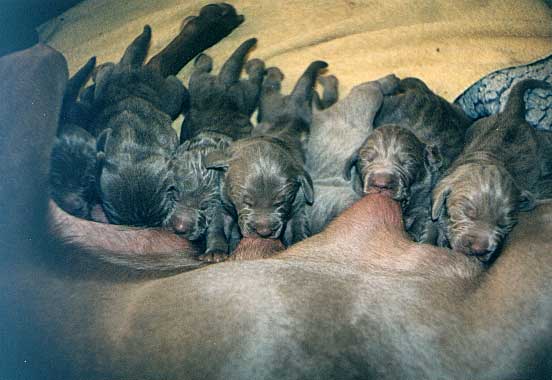 Is there anything more wonderful than puppies?
We are planning for puppies Spring 2015 after SE JCH SE UCH S VCH Quadet Damit ("Damit") and J Fresh Lemon Alive Silver (dame.C.I.B, ChPL, ChSK, ChLT Milla Rosa Fala Love'a ″Mila & sire. JPlCh, ChPl UMBERTO Fala Love'a "Bercik") aka Seven. Contact us if you want to book yourself for a Seven - Damit puppy.
Woksebs kennel has been awarded the The Swedish Kennel Club's Breeder award for successful breeding of Weimaraner. Woksebs kennel was the first Weimaraner breeder to achieve the award. The award was founded in 1962 and acknowledge breeders who has successfully produced puppies which been awarded at field trials.

Contact us for more information